Run Le Hair Show pioneers a new type of experience and communication model, a not-to-be-missed rendez-vous for hair pros and all hair lovers, with episodes from 30 to 45 mn to discover live on Youtube and re-watch on L'Oréal Professionnel's touchpoints, entirely or in segments.
Designed and produced as a TV show, Run le Hair Show is inspired by showrunners methods, to create an entertainment capable of sharing with a larger audience one of the most widespread crafts in the world: hairdressing.
A perfect blend of Talk-shows x Live-commerce x Content Factory, Run le Hair Show is a new hybrid model, which reinvents the brand's communication by putting content at the center of the experience to inspire, train, explain on every touchpoint.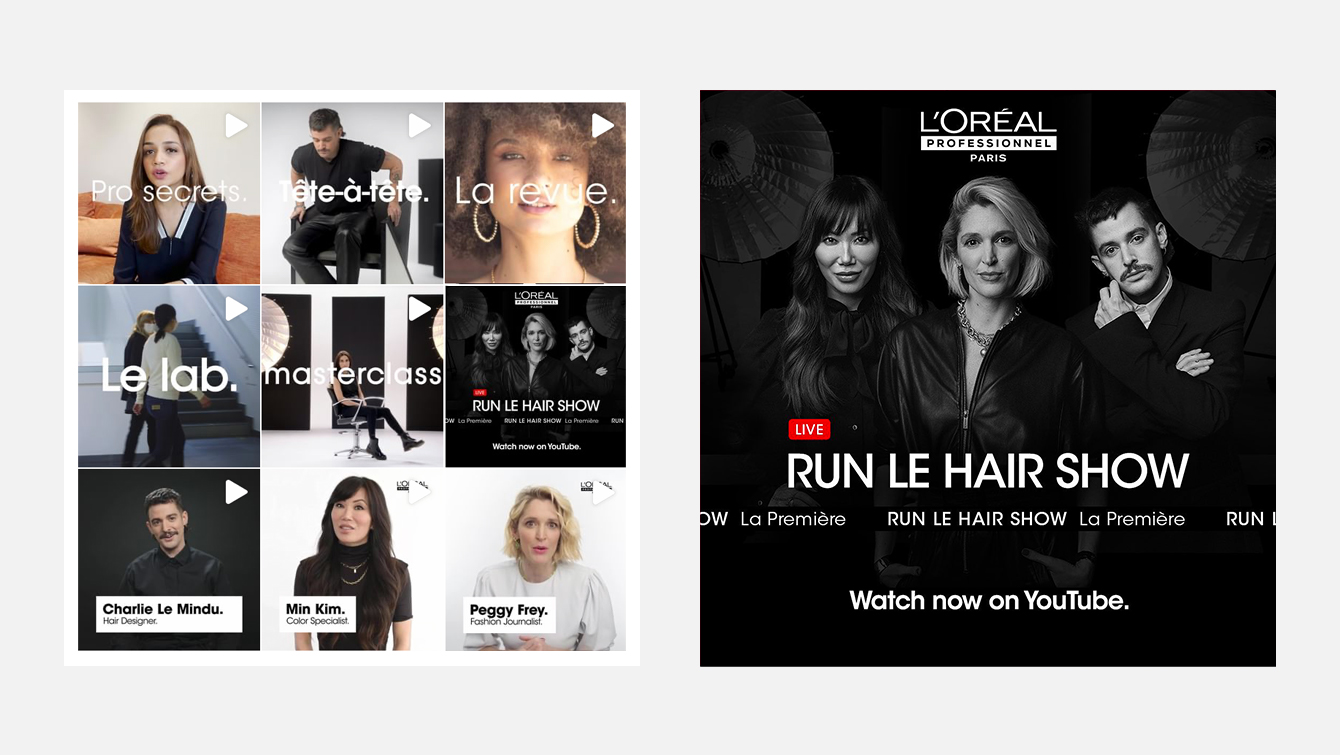 Designed by pros, Run Le Hair Show celebrates the role and the cultural impact of hairdressing in the world, and shine a light on both masters and up-and-coming talents all over the world.
Run Le Hair Show is made up of 6 different segments, aiming at embracing all corners of the industry: trends, science, product innovations, technique, tips, depending on the brand's marketing calendar, consumer-centric hallmarks and cultural moments of relevance. All these segments can be watched individually on L'Oréal Professionnel's touchpoints or as part of the full Run Le Hair Show episode.
Run Le Hair Show is part of a complete re-positioning of L'Oréal Professionnel.
Professional at heart, the brand transformed its identity to highlight the "professionnel" mention and all the expertise and passion behind this word. A new tone of voice, both professional and witty and strong graphic codes also contribute to strengthen the brand's leadership, the superior expertise and French panache across all touchpoints, such as the single black band inspired by the logo, the etiquette, infographics or data visualization tools.
This re-positioning was also the occasion to re-imagine how a brand communicates with its audience, with a transition from traditional product brand communication to a media brand.
With Run Le Hair Show, the brand's campaigns are now completely integrated within the episodes segments, pioneering a new way to produce and communicate the content on stage (hero video, key visual, still life, how-to etc.).
Discover other brands